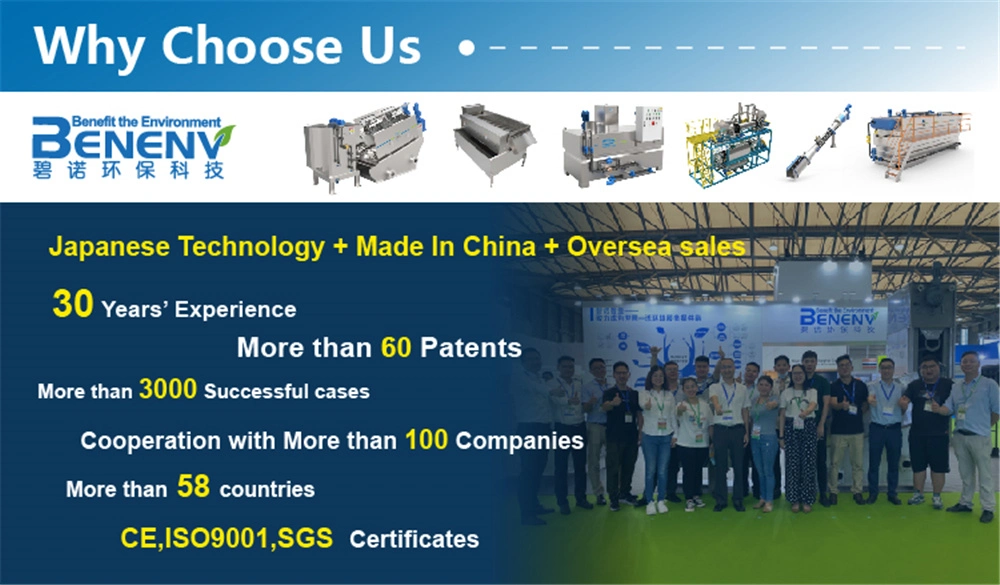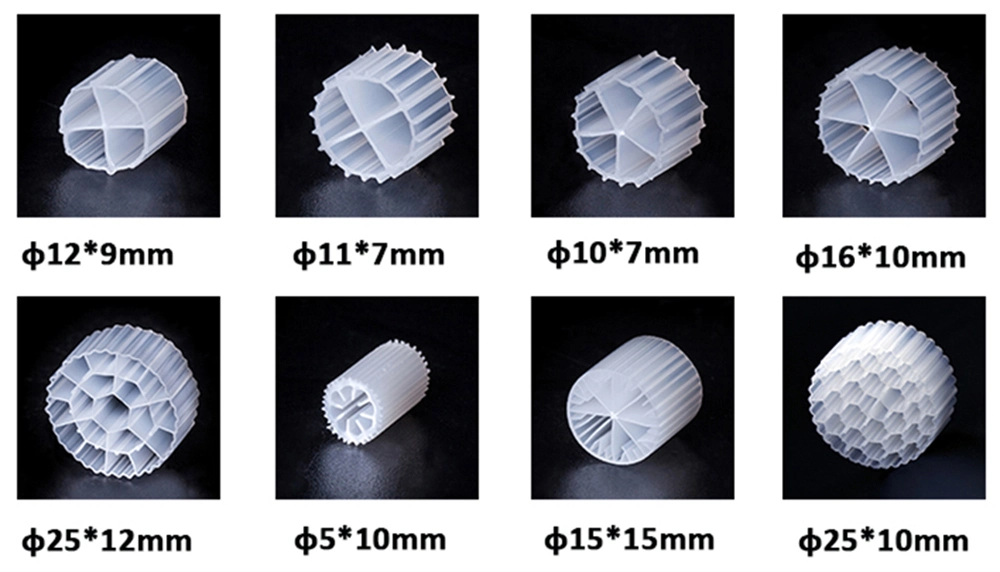 MBBR is a moving media system, used in Integrated Fixed-lm Activated Sludge (IFAS) and moving bed biofilm reaction (MBBR) system.
The wastewater goes through suspending media of MBBR reactor, forming biological membrane on the surface of media gradually. With the action of microbial on the biological membrane, wastewater is purified. MBBR biofilm carrier can move freely in the reactor with the mixing of the water. For the aerobic reactor, the aeration will make the media move; for the anaerobic reactor, mechanic mixing will make the media move. Our MBBR biofilm carrier is new-developed media, has better treatment effect compared with traditional media.

Specfication:
Spec.




(

mm

)

Φ12*9

Φ11*7

Φ10*7

Φ16*10

Φ25*10

Φ25*10

Φ5*10

Φ15*15

Hole Numbers




(

pcs

)

4

4

5

6

19

19

8

40

Efficient Surface




(

m2/m3

)

>800

>900

>1000

>800

>800

>800

>3500

>900

Density




(

g/cm3

)

0.96-0.98

0.96-0.98

0.96-0.98

0.96-0.98

0.96-0.98

1.02-1.05

1.02-1.05

0.96-0.98

Packing Numbers




(

pcs/m3

)

>

630000

>

830000

>

850000

>

360000

>

97000

>

97000

>

2000000

>

230000

Dosing Ratio




(

%

)

15-67

15-68

15-70

15-67

15-65

15-65

15-70

15-65

Membrane-forming Time




(

days

)

3-15

3-15

3-15

3-15

3-15

3-15

3-15

3-15

Life-span




(

year

)

>15

>15

>15

>15

>15

>15

>15

>15
Aplication:
·Project title, the amount of upgrading sewage treatment plant
·New sewage treatment project of MBBR and BAF process
·Biochemical treatment of reclaimed water
·River nitrogen, phosphorus removal
·Aquaculture in removal of ammonia nitrogen, water purification
·Biological filler biological deodorization tower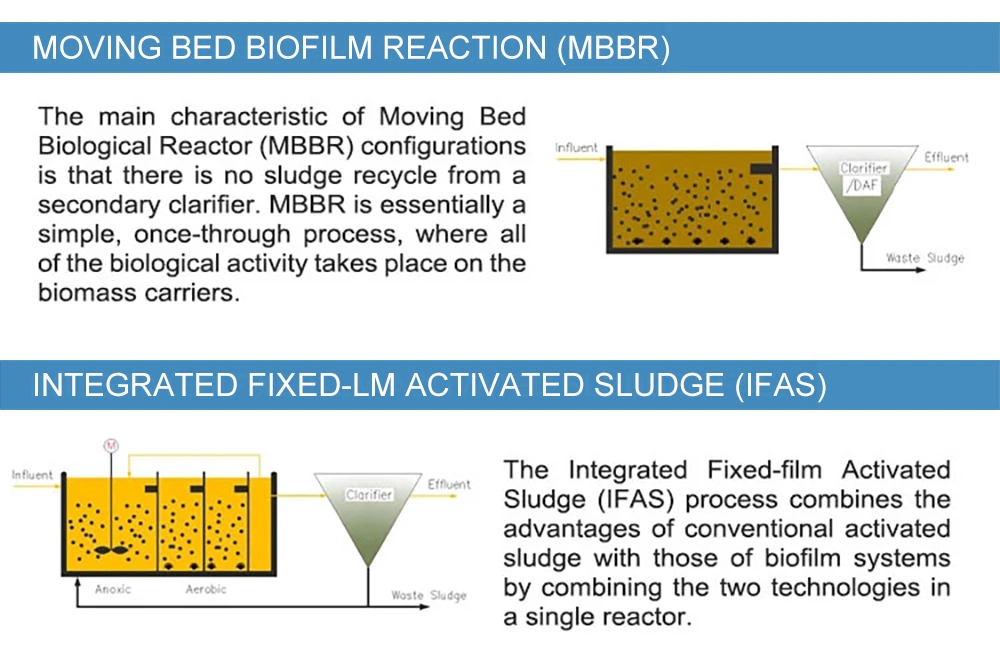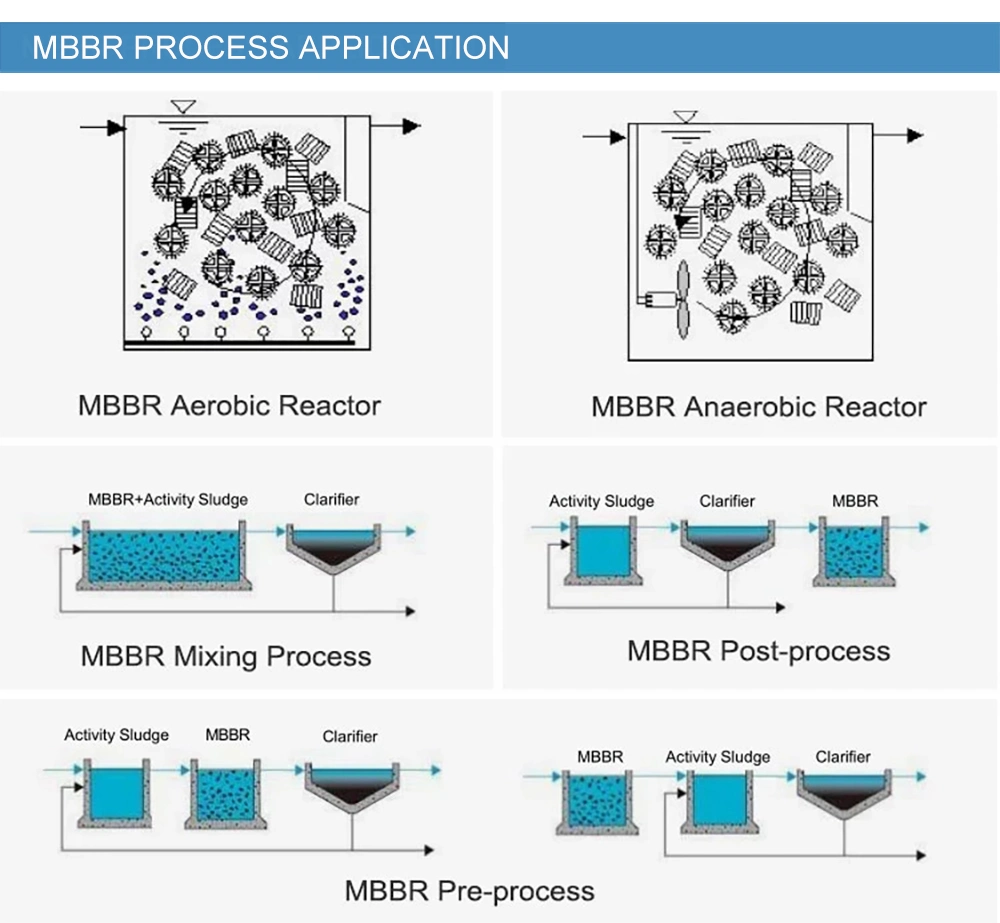 FAQ:
Q: Are You Trading Company Or Manufacture?
A: We Are Both Manufacture And Trading Company. We Have Over 30 Years' Professional Experience As a Waste Water Treatment Equipment Manufacturer And Engineering Service Enterprise.
Q : What Are Your Main Products?
A:Keywords :Sludge Dewatering Machine Equipment, Screw Type Sludge Dewatering Press Sludge Screw Press, Dewatering Sludge Machine Screw Press ,Sewage Treatment Equipment ,Sludge
Treatment Plant,Screw Press Sludge Dewatering ,Dewatering Sludge,Dewatering Machine For Sludge, Dewatering Sludge Machine Screw Press, Rotary Drum Bar Screens, Equipment DAF, DAF Price ,Dissolved Air Flotation System Price, Sludge Shaftless Screw Conveyor,Chemical Dosing Device ,MBBR Price,MBBR Media,Disc Diffuser, Polymer Preparation Chemical Dosing System.
Q
:
How Can I Find The Suitable Model?
A: Please Provide Flow Rate, Solids Content And Sludge Type, We Can Assist You In Model Selection.
Q: Where Is Your Factory Located?
A: Yixing City, We are in the famous city of environmental protection equipment ,professional for Sludge screw press dewatering Machine ,Which Is Very Close To Shanghai With Only Less Than 3 Hours' Driving. Welcome for your visiting.
Q: Do You Provide O
EM
Service?
A: Yes. We Can Do The Customized Design According To Your Different Request for sludge Dewatering.
Q: How About The Production Capacity Of Your Company?
A: Our Factory Covers Area Over 22,000M2 And Produces Machines 2000 Sets Per Year.
Q: How Could We Trust You And Your Company? I
s This First Time Transaction?
A: A: Our Company Has More Than 30 Years Professional Experience. We Cooperate Over 1000 Customers.In China And Overseas. We Export Nearly 60 Countries All Over The World.And We Have More Than 60+Patents, CE,ISO 9001,SGS Certificates. And We Have Company In Japan , Great Technology And Great Quality.
Q: Do You Offer After-Sales Service?
A: Video Technical Support, Online Support,Spare Parts,Field Maintenance Repair Service.
Q: How Long
i
s Your Warranty?
A: 2 Years After The Arrival Of The Goods. During This Period, As Long As It Is Not a Man-Made Damage, We Send The Damaged Parts Free Of Charge.
Q: What About Your Produce Time?What Kind Of Transportation Do You Offer?
A:Within 30 Days Against Down Payment. Air, Land & Sea .
Q: What Kind Of Payment Do You Accept?
A: T/T, L/C, Paypal, Cash, D/P, D/A, Western Union, Money Gram.