Electric Cold Screw Pressing Fruit And Vegetable Pulping Machine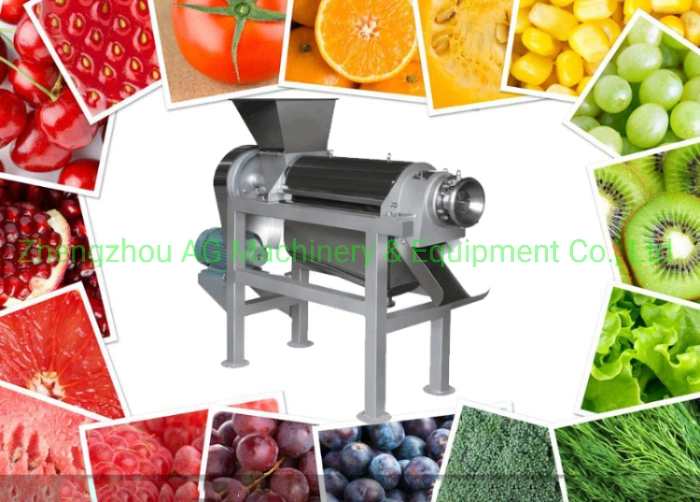 Introduction & Application:
Used for squeezing pineapple, apple, pear and other fruits;
Used for pressing mulberry, grape, orange, orange and other berries
Used to squeeze tomatoes, ginger, garlic, celery and other vegetables.
It is applicable of extracting varies of fruits & vegetable by auger pushing extrusion
Fully automatic processing of juice extraction, residue removal and slag discharging for berries, pome fruits and vegetables;
Material contacting part is made of National Standard 304 stainless steel;
The juice extractor machine frame is made of national standard 304 stainless steel of food grade material.

Technical Parameters:
Model

Capacity

Spiral Dia

Main Power

Crusher Power

Filter Size

Juice Extractor without Crusher

AG-0.5T

500kg

/h

88mm

1.5kw

/

0.6mm

AG-1.0T

1000kg/h

125mm

3kw

/

0.6mm

Juice Extractor with Crusher

AG-0.5TG

500kg

/h

88mm

1.5kw

1.5kw

0.6mm

AG-1.0TG

1000kg/h

125mm

3kw

1.5kw

0.6mm
Structure:
It consists of front support, feed hopper, crushing, spiral, filter net, juicer, rear support, slag tank and other parts. The left end of the spiral main shaft is supported in the rolling bearing housing, and the right end is supported in the hand wheel bearing housing, and the motor is driven by a pair of V-belt drive screws.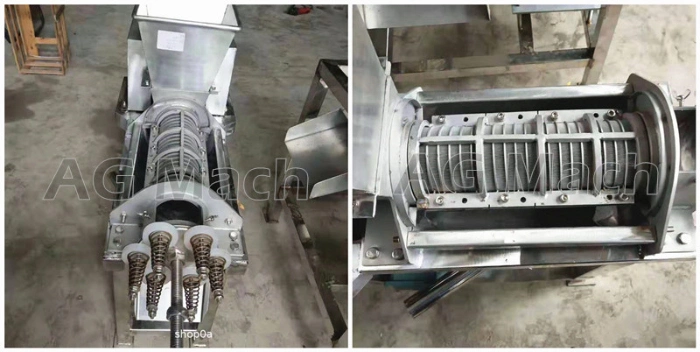 Working Principle:
The main component of this machine is that the spiral diameter gradually increases along the direction of the slag outlet and the pitch gradually decreases. When the material is propelled by the screw, the pressing of the material is formed due to the reduction in the volume of the screw chamber.
Stainless steel spiral fruit and vegetable juicer is suitable for a variety of fresh fruit and vegetable beating separation. The product (Orange, grape, kiwi, mulberry, bayberry, peach (nuclear), etc.) can be squeezed into jam juice, and the core, fruit seeds and thin skin can be separated. It also can process green vegetables (Tomato, pepper, celery (cutting-off) ) into vegetable juice and separate vegetable tendons. It is an ideal machine for making jams, juices and vegetable juices, and is important equipment for food processing enterprises.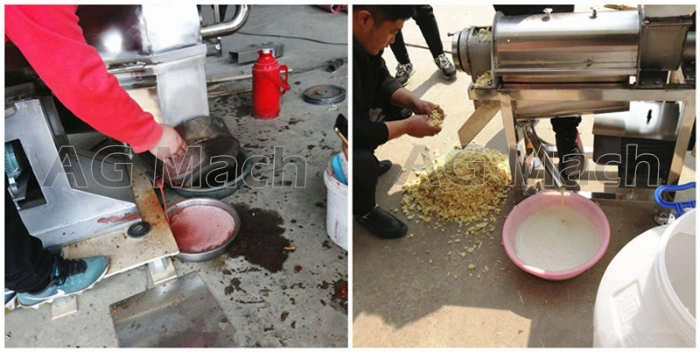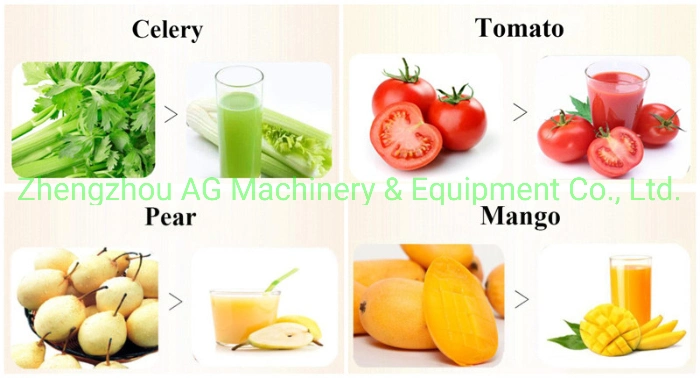 Welcome to visit our factory!