2000L/Hour Water treatment machine, Water treatment plant, RO water plant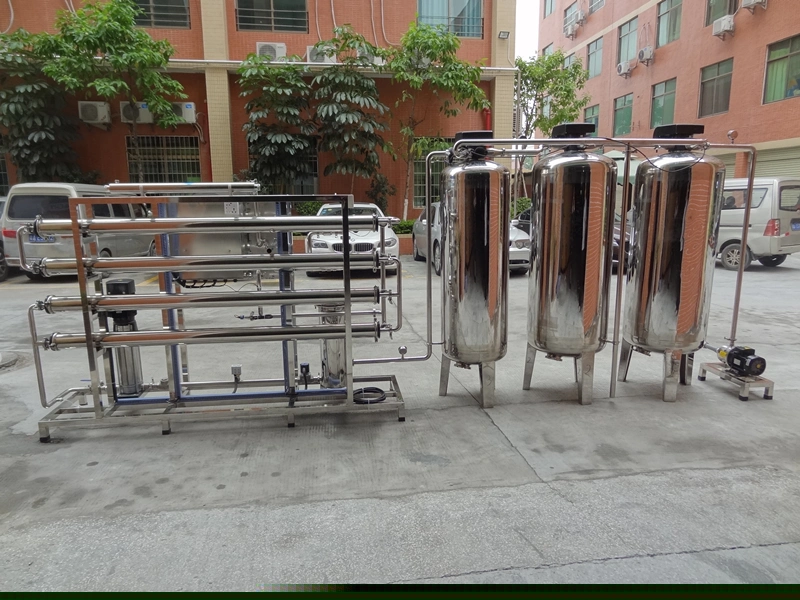 Features and Advantages
1. Automatic control
*Run and produce water continuously, high degree automation
*Automatic backwash and manual backwash
*Automatic switch on when low water level, and switch off when high water level
2. Protection
*Water shortage protection for multi-stage pump
*Protection when no voltage, under-voltage, over-current, short circuit and creepage
3. Intelligent design
*Full stainless steel structure, durable and easy to clean.
*Fiber grass, good corrosion resistance and cost-effective
*Integrating water flow indicator, conductivity indicator, pressure indicator, control panel
4.Brand advantages
*China Top Brand or world famous brand electrical, switch and valve systems
*Core components of RO system are imported, USA Filmtec Dow membranes
Application fields:
1)Electronic industry, semiconductor industry ultrapure water treatment
2)Chemical industry, pharmaceutical industry pure water treatment
3)Food, beverage, drinking water, bottled drinking water, sachet/pouch packing pure drinking water treatment
4)Electroplating and leather industry waste water treatment
5)Brackish water desalination, sea water desalination, metallurgy and light industry pure water treatment
6)Cosmetic products, car battery, liquid fertilizer production pure water treatment
7)Edible cube ice, tube ice etc.
8)School, hotel, hospital, laboratory, surface treatment, hydraulic test, industrial boiler, power station boiler, high pressure boiler water treatment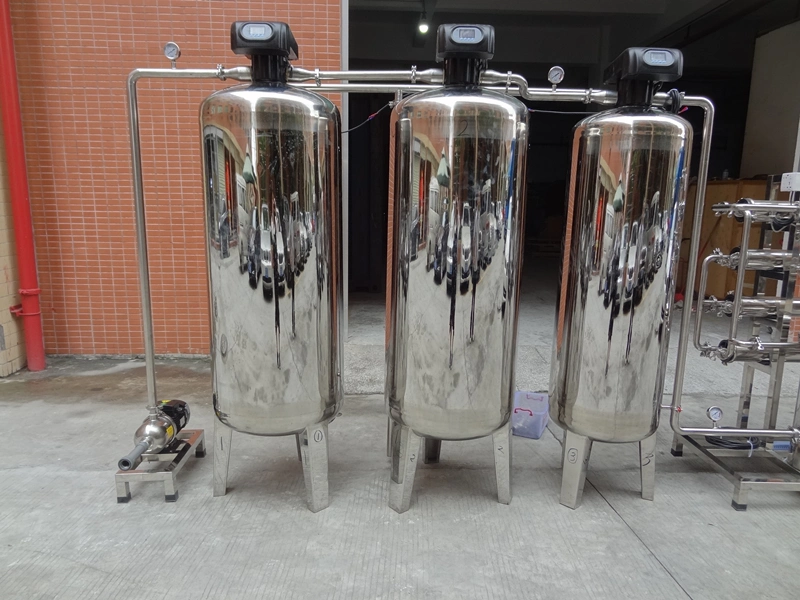 Specification:
1. Manual or automatic control
2. Desalination rate more than 97%
3. PLC control
4. CE certificate
1>. What is reverse osmosis/RO water equipment?
RO water treatment equipment is adopt the reverse osmosis technique. Reverse osmosis/RO is one of the advance technology for water purification in modern, raw water such as tap water, well water, borehole water, brackish water, sea water ect. Through the pretreatment then pass the reverse osmosis system, the pure water completely in line with international standards for drinking water. It widely applied to electronics, semiconductor, pharmaceutical, medical, food, beverages, alcohol, chemical industry, environmental protection and other industries.
2>. The process of RO Filtration System:
Raw water-- Raw water tank --Raw water pump --Quartz sand filter-- Active carbon filter-- Security filter-- high pressure pump-- RO system--Pure water tank-- UV/Ozone --Pure Water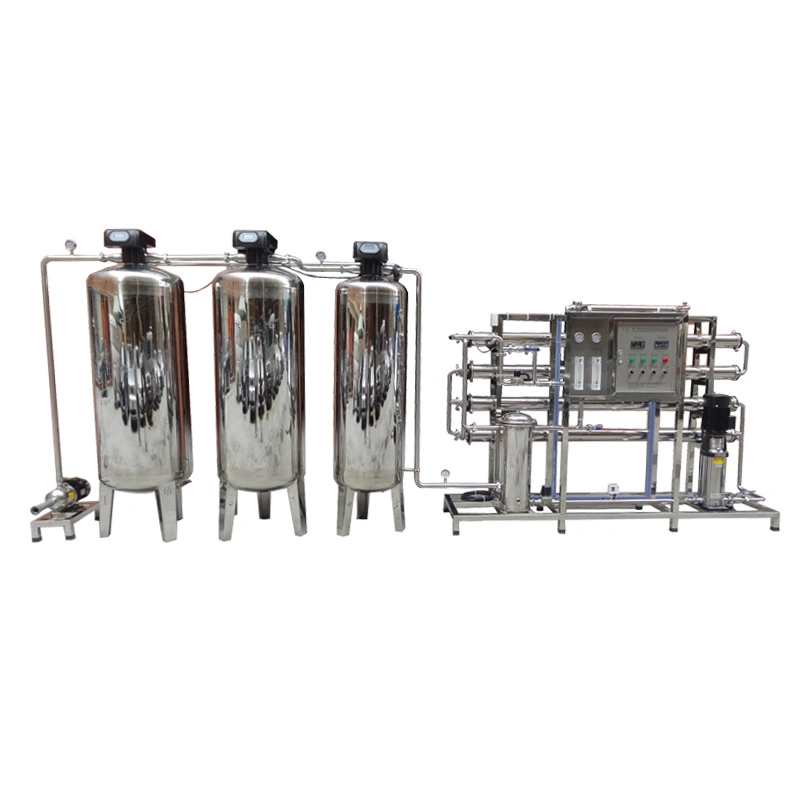 1). Raw water pump-- provide the pressure to filter
2). Quartz filter-- get rid of turbidity, suspend solid, colloid, etc.
3). Active Carbon filter--Remove the color, chlorine, organic matter, etc.
4). Security filter--prevent any deposition of large Particles, most of the bacteria, and viruses into the UF membrane and RO membrane, The accuracy is 5um, for holding back any large particulates such as large iron, dust, suspended matter, impurity.
6). High pressure pump-- provide enough pressure so that make sure enough water for satisfying designed production capacity.
7). RO (reverse osmosis) system--desalination rate can reach as high as 99%, it is capable of removing over 99% of ions, bacteria, particles and 98% of organic
8). UV/ozone--kill the bacteria
| | | | |
| --- | --- | --- | --- |
| S/N. | Commodity name | Application | Remark |
| 1 | Raw water tank | Store water, buffering pressure, overcome instability of supplying water by pipe, ensure to supply water stably and continuously for whole system | Customer provide for themselves, because big size will result in expensive freight. |
| 2 | Raw water pump or called booster pump | Provide needed pressure for every pretreatment filter | We can provide CNP pumps or Grundfos pumps |
| 3 | Mechanical filter or called quartz sand filter or sand filter | We use fiber glass or stainless steel vessel as housing, fill quarts sand, it can filter big particles impurities, suspended substances, colloids etc. | |
| 4 | Activated carbon filter | We use fiber glass or stainless steel vessel as housing, fill activated carbon, remove color, odor, residual chlorine and organics substances. | |
| 5 | Water softener, demineralizer, or called Na+ exchanger | Adopt cation resin to soften water, cation resin will absorb Ca2+, Mg2+(main elements for composing scale), reduce hardness of raw water, System can make resin intelligently regenerate, recycling | |
| 6 | Security filter or pp filter, or called PP sediment filter | prevent large particles, bacteria, viruses into RO membrane, accuracy is 5µm | |
| 7 | High pressure pump | Provide needed working pressure for RO system, ensure production capacity of pure water. | CNP pump, Grundfos optional |
| 8 | RO(reverse osmosis) system | Can remove particles, colloids, organic impurities, heavy metal ions, bacteria, virus, heat source etc. harmful substances and 99% dissolved salts. | RO membranes USA Filmtec Dow |
3>. The feature of water treatment equipment:
1). Can production water continuously and highly automatic
2). No need the chemical regeneration, easy operation
3). RO system choose the import USA DOW membrane
4). Automatic switch on when low water level, and switch off when high water level
5). RO membrane can backwash automatic and reduce thepollution.
6). Water shortage protection for multi-stage pump
7). Porduction water condutivity meter can test the monitoring quality on line contionuosly.
8). Low operation Cost and Long life span
9). It is PC program controller
10). Easily control and Maintained.
11). Auto membrane flushing
12). Environmental protection, Low power consumption
13) Auto flush/backwash
14) Low /high pressure protection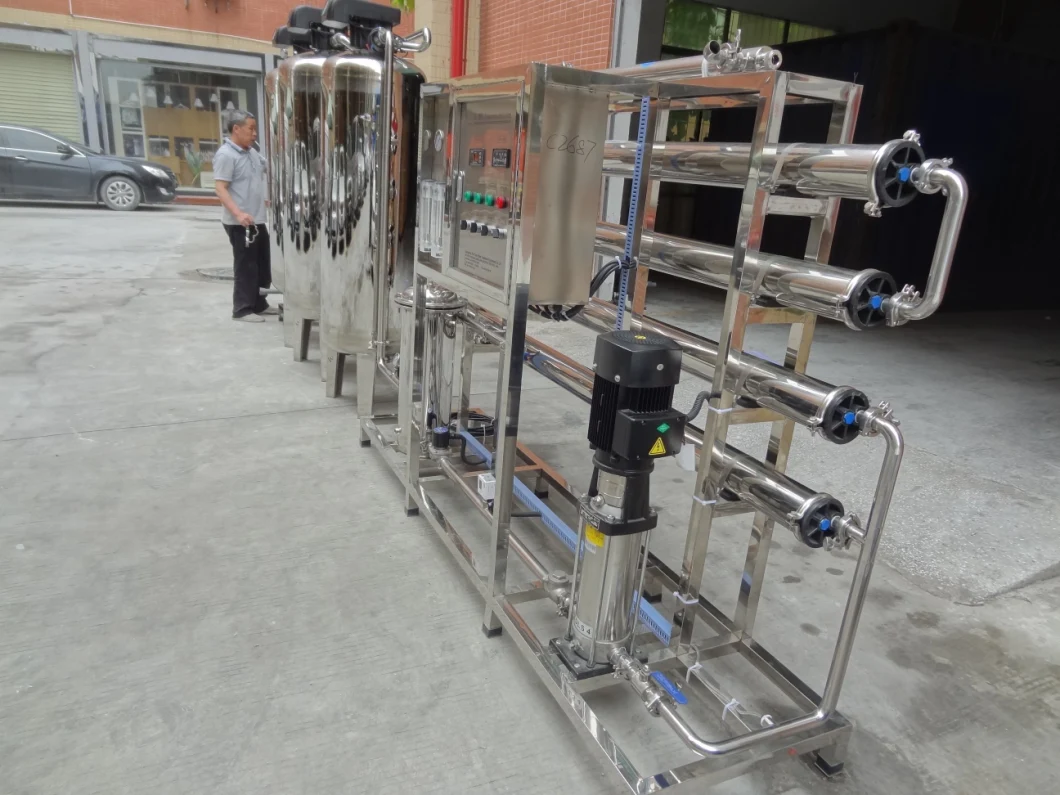 Description of this ro water system
Reverse Osmosis or (RO) can be described as a procedure whereby pure water and contaminants is divided via a semi-permeable membrane(s) with very fine pores. This method is a necessary technique employed in the majority of water purification systems. Reverse Osmosis is considered to be a highly effective approach to eliminating water impurities, such as Toxic Heavy Metals i.e. Lead and Radium, Mercury, Chlorinated Pesticides, organic matters, Turbidity & Dissolved Solids, bacteria, virus.
RO system is widely used in water treatment, purification for tap water, well water, underground water, borehole salty water, brackish water and seawater, pure water and ultra-pure water production. Application area such as, food processing, bottled drinking water, home use drinking water, power stations, electronic industries, cosmetics production, pharmaceuticals manufactories, and medical treatment(such as hemodialysis). It is a key equipment for pure water plant and ultrapure water equipment.
Different water TDS compare and usage
Usage/Source Water
Bottled water, bag Water
City Water
Brackish water
Sea Water
TDS Range
2-10ppm
100-1000ppm
2000-20,000ppm
20,000-40,000ppm
Direct Drinking
Yes
Yes/No
No
No
Cooking, human consumption, washing
Yes
Yes
No
No
Irrigation, industry, animal drinking
Yes
Yes
No
No
Replacement time of consumable partsThere are several kinds of consumables you need to replace regularly.
a. Quartz sand: replaced about every 15 months. 50kg/bag
b. Activated carbon: replaced about every 15 months. 25kg/bag
c. Resin: replaced about every 15 months. 25L/bag
d. PP Filter cartridge: replaced about every 1 month
e. Ro membrane: replaced about every 2 years
We suggest customers buy 1- 2 years of PP filter cartridges together with machine. Because these PP filter cartridges need to be replaced every month.
After-sale ServiceThe above machine which we supply it to you, we can give you one year after sales warranty, we can also send our engineer to your factory to install this equipment and train your staff, but the buyer should pay the round air tickets cost and arrange the hotel accommodation as well as the food for seller's engineer. We will send some spare parts to you for free for replacement. Such as activated carbon, sand, pp filter cartridges etc. We will also write emails to remind you to replace the filters and rinse, backwash sand filter and carbon filter.
4>the capacity we can supply:
Model
Flow rate (L/h)
Power(KW)
Water use efficiency
RO membrane
Dimension
L X W X H(mm)
KYRO-250
250
1.5
≥ 15%
4040
1550X620X1670
KYRO-500
500
1.5
≥ 50%
4040
1650X630X1800
KYRO-750
750
2.5
≥ 50%
4040
1870X 630 X 1850
KYRO-1000
1000
2.5
≥ 50%
4040
1870X 650 X 1850
KYRO-2000
2000
3.5
≥ 50%
4040
2440X650X1750
(host machine)
KYRO-3000
3000
4
≥ 50%
4040
2440X620X1850 (host machine)
KYRO-5000
5000
7.5
≥ 50%
BW30-400
2000X900X1800 (host machine)
KYRO-6000
6000
9.5
≥ 60%
BW30-400
3000X900X1800 (host machine)
KYRO-8000
8000
13.5
≥ 60%
BW30-400
3000×900×1800 (host machine)
KYRO-9000
9000
14
≥ 60%
BW30-400
4000X900X1800 (host machine)
KYRO-10T
10T/H
19
≥ 60%
BW30-400
3000X900X1800 (host machine)
KYRO-12T
12T/H
19.5
≥ 60%
BW30-400
4000X900X1800 (host machine)
KYRO-15T
15T/H
23
≥ 60%
BW30-400
4000X900X1950 (host machine)
KYRO-20T
20T/H
28
≥ 60%
BW30-400
5000X900X1950 (host machine)
KYRO-30T
30T/H
55
≥ 60%
BW30-400
7000X900X1950 (host machine)
KYRO-50T
50T/H
58
≥ 75%
BW30-400
7000X1500X2100(host machine)