Fine bubble disc diffuser
1. Product Description
Membrane Fine Bubble Diffuser for effluent treatment features a unique split pattern and slit shapes, which can disperse air bubbles in an extremely fine and uniform pattern for high oxygen transfer efficiency. A much highly effective and integrated check valve enables the aeration zones to be easily shut down for air-on/air-off applications.
2. Technical Parameter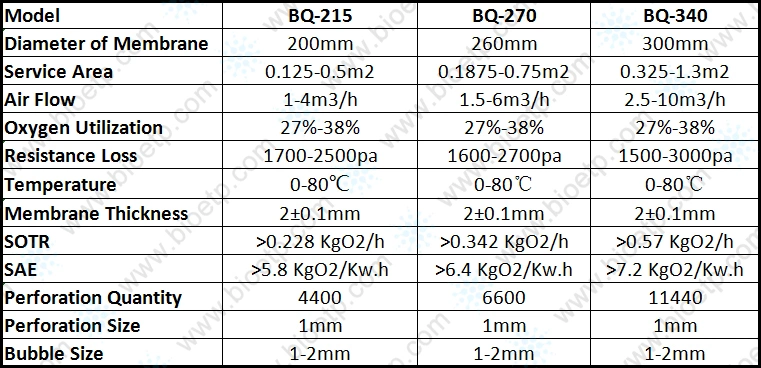 3. Main Features
♦ Low resistance loss
♦ Highly Tear Resistant
♦ Anti-clogging, anti-backflow
♦ Ageing-resistant, anti-corrosion
♦ High efficiency, energy-saving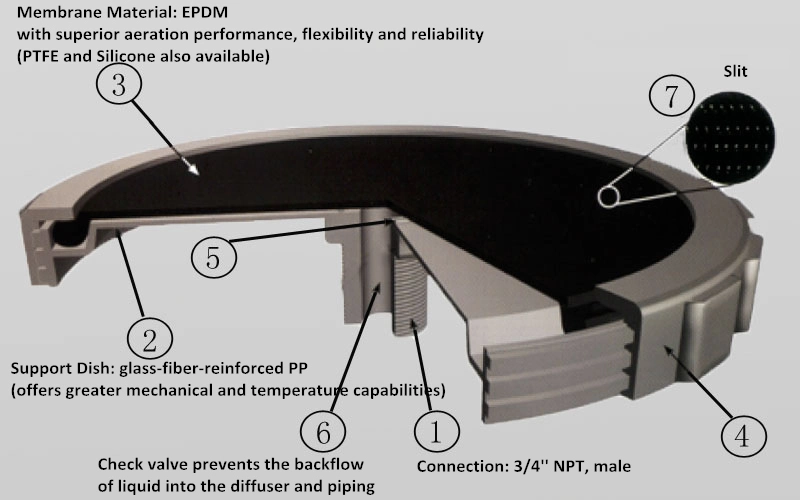 5. Application
Municipal wastewater treatment

Industrial wastewater treatment

Clean water treatment

Sludge stabilization

Wastewater ozone diffusion

Aeration of fish ponds

Aeration of streams and lakes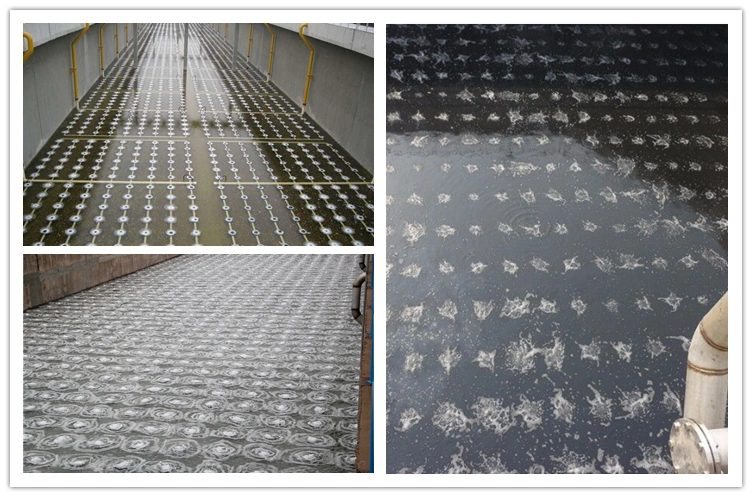 6. About us
Wuxi Qiuyuan Environmental Engineering Co., Ltd, locating in China Environmental Town, Yixing city, is a specialized in designing, installation and commissioning full project for industry wastewater treatment, sewage water treatment and odorous air (VOCs) abatement solutions.

We are manufacturing: Multi-disc screw-press dehydrators and decanter for sludge dewatering. DAF system and magnetic separator water clarifying. Automatic chemical dosing-adding system. DDBD(non-thermal plasma double dielectric barrier discharge reactor), chemical washing scrubber, biofilter tank and packing materials.

Products we supply also: Air blower, air diffuser, flow booster, water pump, packing material for ETP tank, coagulant PAC, flocculant PAM, chemical dosing tank, metering pump.

We have 3 factories, 20 engineers and more than 100 workers. We have technical support from doctors of Zhejiang University to supply proper design, fast installation and commissioning and efficiency feedback. Service will always be available.
7. FAQ
Q: Whether your company is factory or trading company?
A: Our company has its own workshop, so we can provide the the best quality and the lowest price for you.

Q: What's the material of your membrane?
A: We can provide three kinds of membrane materials, including EPDM, PTFE and Silicone.

Q: what's the material of support dish?
A: Strengthened PP+glass fiber.

Q: What about the slit quantity of membrane?
A: 8 inch(≥6500), 9 inch(≥8500), 12 inch(≥11000).

Q: What about the MOQ?
A: 1 piece.

Q: What are the accessories of fine bubble diffuser?
A: Aerator pipe, Horizontal regulating support, Connector, saddle, etc.

Q:Any samples can be provided?
A: Yes. Samples within 2 pieces can be provided for free.

Q: What is your terms of delivery?
A: Normally within 10~20 days against down payment.

8. Contact us
Wuxi Qiuyuan Environmental Engineering Co., Ltd.
Add: Zhoutie Industry Zone, Yixing City, Jiangsu Province, P.R. China